About Vocal Cord Dysplasia
Vocal cord dysplasia is a pre-cancerous condition of the vocal cords.  In its severe form, it is sometimes diagnosed as vocal cord carcinoma-in-situ, which is not cancer per se, but one step short of becoming cancer.   By definition, vocal cord dysplasia is a disease involving only the surface lining (epithelium) of the vocal cords, and not the deeper vibratory tissues.  Treatment must respect this important distinction if the voice is to be maximally preserved.
If untreated (and occasionally even when treated) vocal cord dysplasia can progress to vocal cord cancer. The rate at which it does is not known for certain, but according to one large study, vocal cord dysplasia developed into cancer at a rate of 10 – 30% over > 5 years, depending on the severity (grade) of the disease.1  
An examination of the larynx and its vocal cords in the office )- will usually reveal one of two different types of lesions with vocal cord dysplasia: leukoplakia (white patch) or erythroplakia (red patch) on one or both vocal cords.
Frequently asked questions about vocal cord dysplasia
What are the symptoms of vocal cord dysplasia?
Most commonly, a patient who is ultimately diagnosed with vocal cord dysplasia will present with a complaint of painless hoarseness or change in his or her voice. This occurs because the disease affects the vibratory properties and sometimes the closure patterns of the vocal cords.
How common is vocal cord dysplasia?
Like many diseases of the larynx, vocal cord dysplasia is rare in the general population.  More importantly, unlike with cancer, there is no centralized database to record cases of vocal cord dysplasia, and so the medical literature mainly contains case series from one or more tertiary medical centers.  Based on one institutions's report extrapolated to the current population, the incidence of vocal cord dysplasia may be around 19,000 new cases per year in the United States.2  It occurs about 3 - 5 times as frequently in men compared to women.2, 3
How is vocal cord dysplasia diagnosed?
While it can be suspected based on the visual appearance of the vocal cords either in the office or operating room, a sample (biopsy) of diseased tissue must be obtained by a surgeon and examined under a microscope by a pathologist in order to definitively diagnose vocal cord dysplasia.  Pathologists also typically assign dysplasia a grade of mild, moderate, or severe. Severe vocal cord dysplasia is sometimes called carcinoma-in-situ (CIS) of the vocal cords, although some pathologists classify CIS as a distinct fourth grade of dysplasia.  Irrespective, in general, the higher the grade of dysplasia, the more likely it is to progress to cancer if untreated.
Can vocal cord dysplasia be cured?
Some patients with vocal cord dysplasia may be cured or have a long-term remission after one or a few surgical treatments (microlaryngoscopy) [link to microlaryngoscopy page]. Even in these cases, patients with vocal cord dysplasia should have long-term follow up to ensure the disease does not return. Other patients may have a more chronic form of the disease, in which it is not curable but rather managed. In these cases, after disease has first been maximally controlled in the operating room, state-of-the-art treatment currently includes office-based laser surgery, which can reduce the need for repeated general anesthesia that is required for surgical treatment in the operating room.
Vocal cord leukoplakia
Leukoplakia (white patch) on both vocal cords, as visualized in the office.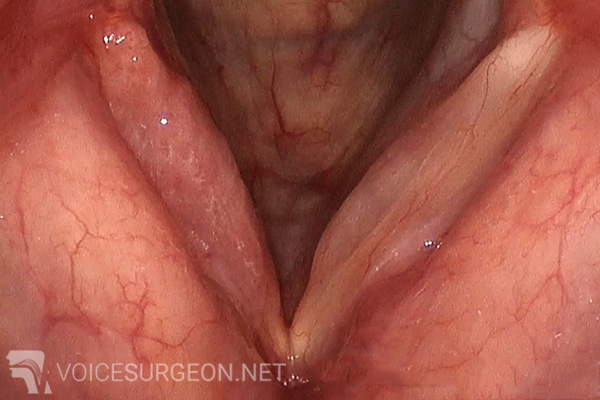 Vocal cord erythroplakia
Erythroplakia, also called erythroplasia, (red patch) on the right vocal cord (left side of picture), as visualized in the office.
Treatment in the Operating Room
Surgery (microlaryngoscopy) is typically initially necessary to both diagnose (with a biopsy) and then treat the diseased surface lining of the vocal cords that occurs with vocal cord dysplasia.  In order to optimize the vocal outcome, it is crucial to perform surgical removal of vocal cord dysplasia in a meticulous, methodical fashion so as to maximally preserve the deeper vibratory tissues of the vocal cords.  This will permit a new, hopefully undiseased lining to re-grow over the treated area.  Many times, but not always, a patient's voice can improve with such treatment. In cases of refractory disease that is diffuse, radiation treatment is sometimes employed, although it can have a damaging effect on the voice and produce other unwanted side effects.
Vocal cord leukoplakia
Vocal cord leukoplakia (white patch) in the above patient, now viewed in the operating room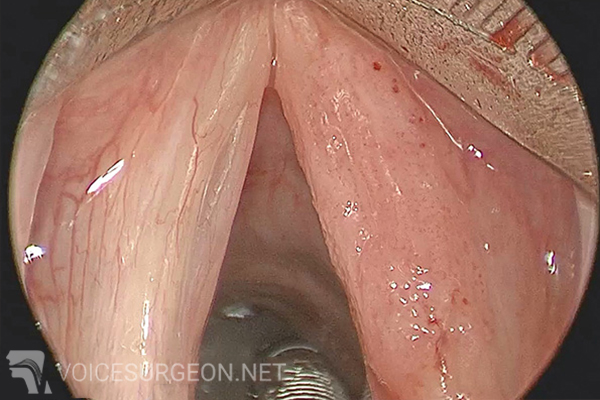 Vocal cord erythroplakia
Vocal cord erythroplakia (red patch) in the above patient, now viewed in the operating room.
Advantages of the KTP Laser in Treating Vocal Cord Dysplasia
The unique physics of the KTP laser allow it to selectively target the increased local blood supply that is commonly associated with vocal cord dysplasia.  Even though many dysplastic lesions appear white (eg vocal cord leukoplakia), there is typically an increased density of blood vessels at the interface between the dysplastic surface lining and the normal deeper tissues of the vocal cord.  As a result, the KTP laser can be an extremely useful surgical tool in treating this disease in the operating room, since it can help a laryngeal surgeon cleave and nearly bloodlessly remove the diseased membrane of the vocal cord from the deeper, undiseased vibratory tissues, the preservation of which is necessary for optimal voice.  Other surgical techniques ("cold instrument" removal or carbon dioxide (CO2) laser) do not necessarily offer this advantage of minimizing bleeding.  Bleeding is the enemy of precision in laryngeal surgery, since it impairs the surgeon's ability to see.
KTP Laser Treatment of Vocal Cord Dysplasia in the Operating Room - Surgical Results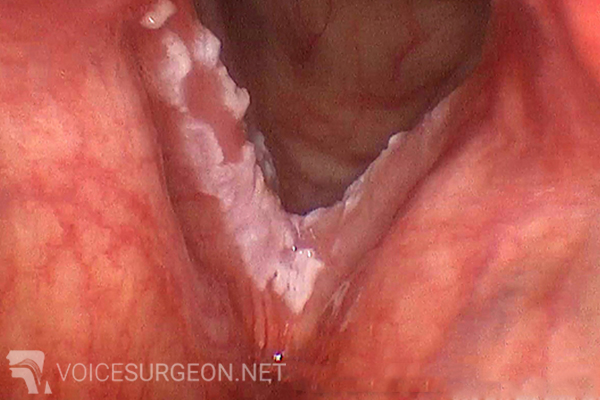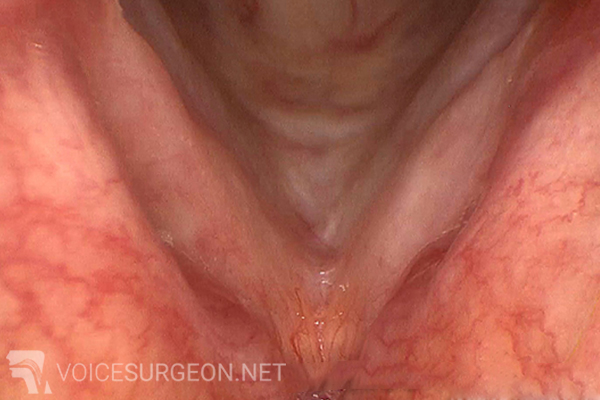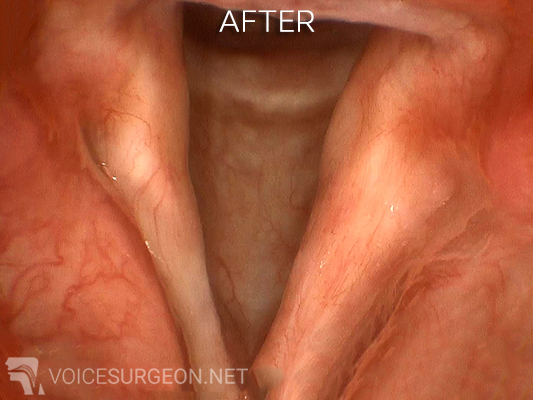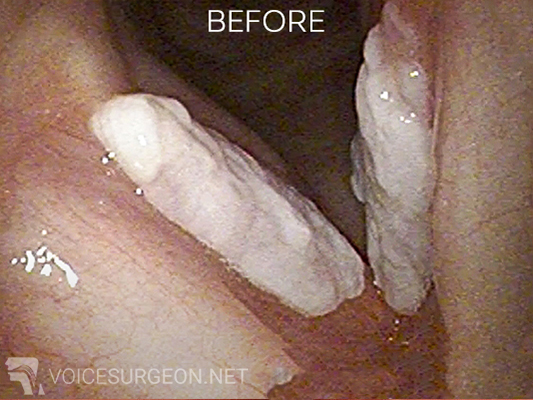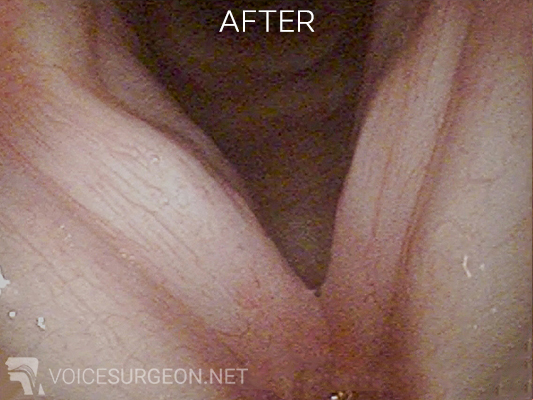 KTP Laser Treatment of Vocal Cord Dysplasia in the Office
Additionally, because the KTP laser is delivered on a thin flexible glass fiber that can be placed through a flexible laryngoscope which is passed through a patient's nose, it can also be used in the office to treat vocal cord dysplasia. Patients treated in this fashion are fully awake and do not need general anesthesia. Additionally, treatment time is dramatically reduced compared to the operating room. Office-based KTP laser surgery allows limited recurrences of vocal cord dysplasia to be treated early on, when it might otherwise be excessive to undergo a full microlaryngoscopy in the operating room. By diminishing the surface area of the vocal cord disease that is treated, voice outcomes may also be optimized with this technique.